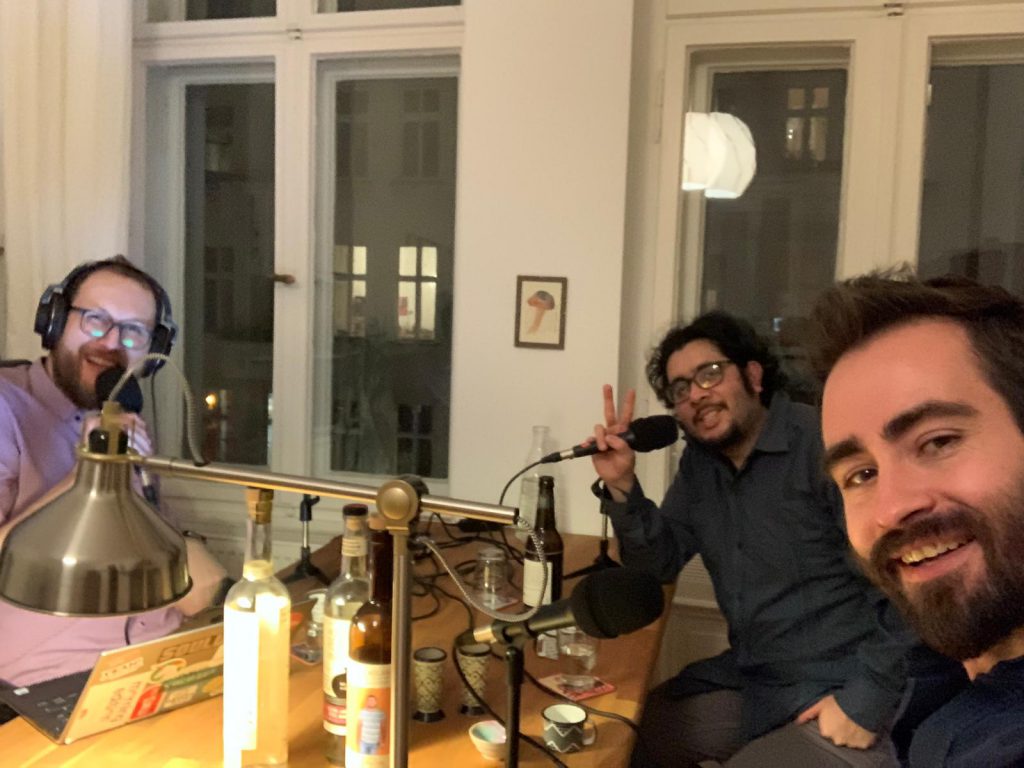 Fernando – co-owner of our Berlin's most favorite Mezcal bar "La Tentación" – has planned a spectacular trip to his birthplace Oaxaca from September 1st to September 10th 2020. When we read about it, we wanted to create some more awareness of this tour to our listeners and asked Fernando if he can walk us through the schedule. So we could learn more about the Mecca of Mezcal and you can decide if you want to join this trip. You can contact Fernando directly ( fernando@tentacionmezcalothek.de )
La Tentanción:
https://www.facebook.com/tentacionbeer/
http://www.tentacionmezcalothek.de/
https://www.instagram.com/tentacion_de/
Get in touch with us!
https://twitter.com/ElixirPodcast
https://www.facebook.com/elixirofthegods/
https://www.https://www.elixirofthegodspodcast.com/
https://www.instagram.com/elixirpodcast/
Schedule:
Tuesday, September 1st
15:00 – 17:00 Oaxacan Buffet
18:00 – 21:00 Mezcal tasting at In Situ
21:30 – 22:30 Tacos for dinner!
Wednesday, September 2nd
07:00 – 14:00 (3. Sep)Visit to Paranubes (Oaxacan Rum and prizewinning as the product of the year at the BCB)
Thursday, September 3rd
15:00 – 16:30 Traditional food at the Hotel
09:30 – 22:30 Oaxacan Craft Beer & Mezcal tasting + Dinner + Surprise
Friday, September 4th
08:00 – 09:30 Traditional oaxacan breakfast at the hotel
10:30 – 14:00 Hierve el agua + Mitla
15:00 – 17:30 Palenque Gracias a Dios (Mezcal & oaxacan gin) + Traditional food
19:30 – 22:30 Mexican cantina + dinner
Saturday, September 5th
07:00 – 08:00 Traditional Breakfast at the Hotel
11:00 – 16:00 Visit to a Miahuatlan Palenque + Mezcal tasting + Food
18:00 – 19:59 Mezcal tasting at Neta
20:00 – 22:00 Tacos for dinner
Sunday, September 6th
09:00 – 10:00 Traditional Breakfast at the hotel
11:00 – 15:00 Visit to Teotitlan del Valle + Tlacolula Market + Food at the market
16:00 – 18:00 Santo Domingo Museum
19:00 – 22:00 Slow food dinner + Mezcales at La Biznaga
Monday, September 7th
07:30 – 08:30 Traditional Breakfast at the hotel
11:00 – 15:00 Visit to Real Minero & Proyecto LAM
15:30 – 16:30 Traditional food at Conchita
17:00 – 19:00 Mezcal tasting at Ocotlan with Mr. Santaella
20:00 – 22:00 Mezcal tasting at La Mezcaloteca
22:30 – 23:30 Tlayudas for dinner
Tuesday, September 8th
09:00 – 10:30 Tacos de guisado at La Abuela
11:30 – 16:00 Cooking class + visit to the market by Rodolfo Castellanos (Mexico's Top Chef 2016)
16:01 – 18:01 Cocktail class
18:01 – 23:59 Day off so you can do some tourism at the city center
Wednesday, September 9th
07:00 – 08:00 Traditional Breakfast at the hotel
09:30 – 14:00 Monte Alban
15:00 – 16:00 Nieves (Oaxacan Ice cream) at La soledad Church
16:30 – 17:30 Traditional food at the Pasillo de Humo
18:00 – 19:00 Aguas de Casilda
19:01 – 23:59 Day off (With some recommendations)
Thursday, September 10th
08:30 – 09:30 Traditional Breakfast at the hotel
11:00 – 15:00 Visit to "Los Danzantes" palenque + Mezcal tasting + Food(To be confirmed)
15:01 – 16:01 Last toast of the trip